A
digital marketing strategy
is a plan that enables your business to achieve specific objectives through a carefully chosen mix of marketing channels, including paid, earned, and owned media. It is a collection of direct actions carried out online to accomplish a particular company's goals. Simply put, this refers to doing continuous activities at the appropriate times through the most effective online platforms in order to boost sales and strengthen bonds with your audience. 
The Reasons Behind the Need for a Digital Marketing Strategy:
It encourages you to learn more

Offers accurate data

It organises your behaviour

Increases ROI

Encourages you to reevaluate your interactions with the audience
It encourages you to learn more:
You must consider every aspect of your organisation before beginning to create a digital marketing strategy. To develop a polished and current digital marketing plan, you must also carefully examine your audience, rivals, trends, and adjacent niches. Creating a plan is a fantastic opportunity to learn more about your company in-depth!
You will gather a variety of detailed information about what works and doesn't for your brand while conducting the analysis and after putting your strategy into practice. With that knowledge, you'll have a range of options for growing your company.
It organises your behaviour:
By creating a digital marketing strategy, you may avoid the chaos of having to make educated assumptions in the absence of a plan. A strategy can help you better understand how to mix several marketing channels and utilise all of your company's potential.
You commit fewer actions and fewer errors after structuring your actions. You will be able to identify your weaknesses, predict issues, and respond quickly if you have a carefully thought-out plan. As an outcome, you will save time, money, and effort while increasing margins.
It encourages you to reevaluate your interactions with the audience:
A digital marketing plan allows you to reexamine how you interact with consumers and prospects at every stage of the buying process. When creating a business plan, it's important to keep your customers in mind, look for ways to enhance your connections with them, and think of fresh ways to interact with them.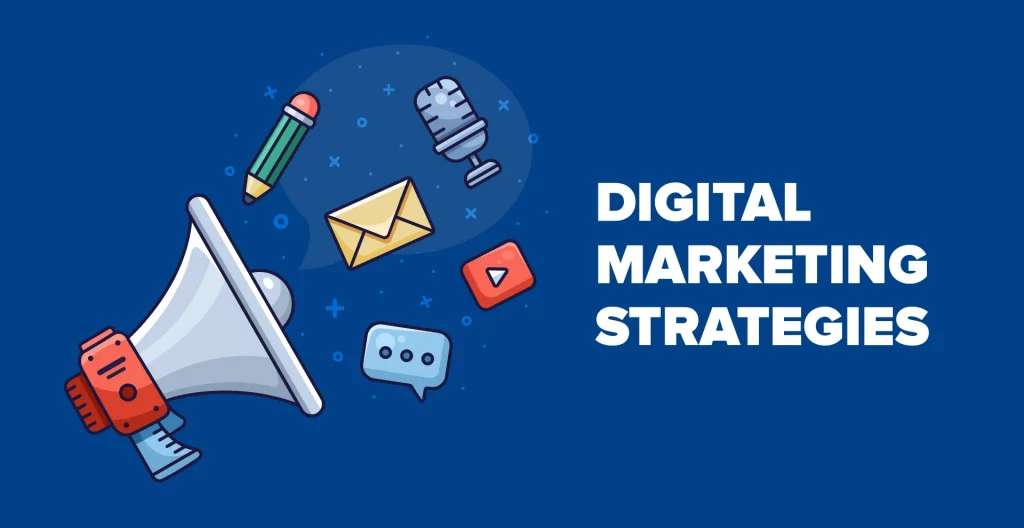 How to create a digital marketing strategy:
Determine Your Goals and Skills
Every experienced marketer is aware of how important this phase is. Setting goals is your main task because the plan will fail if you don't. Make sure the objectives you created are appropriate and measurable.
For every digital marketing plan, producing high-quality content is essential. Blogging is one technique to develop your content marketing strategy and provide high-quality material for a website. This big aspect of the plan serves a number of vital purposes, such as increasing website traffic, boosting social media presence, placing your business against rivals, and ranking all those long-tail search queries and keywords.
The importance of marketing automation is huge, and new tools and technologies are only making it better. Leading marketing automation solutions available today make it simple to automate tasks like content marketing, email marketing, lead generation, and more, which may do wonders for your digital marketing approach.
If your business is still on the fence about it, make sure to incorporate automated lead generation into your strategy this year.
Master mobile optimization
In this mobile-first world, there is no justification for not making improvements to your site to provide a fantastic mobile experience. To guarantee that visitors who access your site via a mobile device have a positive experience, mobile optimization comprises page speed, site design, and several other search engine optimization techniques.
Ensure that customers can contact you easily.
Connecting with potential consumers is the foundation of online business, hence high website traffic is essential for success. Therefore, you should make sure that your leads and visitors aren't making an extra effort to engage with you using your digital marketing plan. Engaging with customers benefits your company greatly.
Monitor your performance.
It should be continuously monitored to make sure the plan is performing as intended. This is accomplished by assigning teams to complete this duty. Never forget to find new methods to grow, and always remember to learn from your failures!
Designing a digital marketing strategy process involves a lot of work, but a strong and well-thought-out plan will make it much simpler.
Your firm lacks a detailed plan for reaching its goals, objectives, and important results without Internet marketing techniques. You are aware of what you want to achieve, but you are unsure of how. This frequently results in the beginning of an unsuccessful digital marketing campaign.
A digital marketing plan must be invested in if you wish to invest in digital marketing.