User-Friendly Mobile Apps that Engage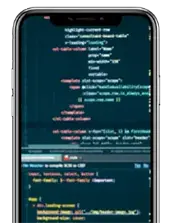 Apple's App Store is a competitive market, so you need quality iPhone applications that are ready for prime time when you need them.
This team has a solid background in iOS development, iOS SDK frameworks, and Java. We also have experience with C++ and Objective-C, as well as SOAP and JSON. We have worked with UIKit and XML., Core Data and Core Location, Instruments and Cocoa Touch, and Cocoa Core Libraries. Multi-threading on iPhone and iPad devices, in-app purchases, and several smart tools for iPhone development are all possible. Because of our expertise and experience in iPhone app development, we are able to provide solutions that are tailored to our client's specific demands and objectives. As a result, TekScrum's iPhone app developers will be able to apply their knowledge with UX design, QA testing, and cross-platform mobile app development while creating apps for iOS-enabled devices. App creation for iPhones can have a big impact on your app, especially in terms of the user experience you provide your customers. A wide range of methods is used by the iOS app developers at TekScrum to deal with application development, including an examination of the business requirements as well as the design aesthetics and functionality. This ensures seamless integration with Apple's App Store and the smoothest possible accommodation and endorsement process.
With TekScrum as a Mobile App development Company, you can be sure that your apps will be cutting-edge and inventive when they hit Google Play
One of the greatest Android app development companies in Pakistan is ours. As an Android app development company, we've worked on a variety of projects for clients in industries as diverse as business, healthcare, and television & media. Even if you're looking to create mobile apps that are self-contained, customer-serve, web service, or database-driven, our professional and talented Android app developers can help you achieve the Android app that addresses your issues and necessities while also looking, feeling, and working the way you require it to. Cross-platform creation and porting of current Java-based or flexible programs to the Android platform are also strong suits of our application developers. Choosing the right Android app development company can have a huge impact on your app and the experience your customers enjoy with it. In order to ensure that the submission and approval process for Google Play goes as smoothly as possible, TekScrum's android application developers use a comprehensive approach to application development that takes into account an investigation of the business prerequisites, design look and feel, client experience, application usefulness, and debugging requirements.
Contact us today if you're ready to take your digital marketing to the next level. We'd be happy to discuss your business needs and provide you with a custom marketing solution tailored to your specific goals and budget.
In conclusion, our digital marketing solutions are dedicated to helping your business succeed by providing adequate and comprehensive digital marketing services. With our expertise and experience, we can help.